Overview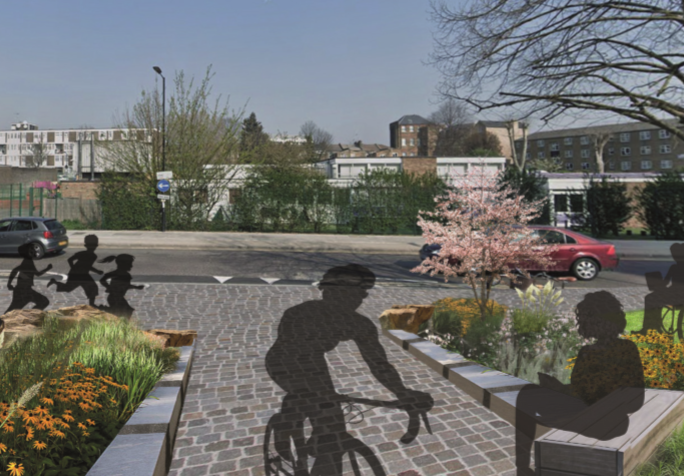 We are seeking your views on proposals to improve road safety on Hedger's Grove and transform it into a high-quality public space.
Why are these changes being proposed?
These proposals form part of our long term vision for streets in Hackney. We want to create streets that are safe, easy to walk or cycle on, reduce vehicle dominance and help to improve air quality.
The Council's Transport Strategy recognises that roads and streets in our neighbourhoods are not just places to park vehicles or drive, walk and cycle on; they make up the largest element of the public realm of the city and are the places where we socialise and live our lives. We would like to transform Hackney's neighbourhoods into the most attractive and liveable neighbourhoods in London. This aspiration can only be achieved by reducing the dominance of the private vehicle primarily through managing on-street parking and reducing traffic flows.
The Wick Road Two-way scheme was implemented in August 2018 to improve cycle accessibility to the Queen Elizabeth Olympic Park and Stratford City by encouraging the use of more sustainable modes of transport. For more about the Wick Road scheme, see: hackney.gov.uk/wick-road
While these traffic management measures were put in place to address cycle permeability, slow down speeding vehicles, contribute to environmental improvements with trees and sustainable drainage, and improve the flow of vehicles travelling out to the A12, there are a couple of locations that now require traffic mitigation due to traffic diverting onto residential roads to bypass traffic junctions. There have been a number of complaints received by the Council as a result of the Wick Road Two-way scheme with regards to safety and the increase in the number of vehicles using Hedger's Grove.
Hedger's Grove has had an increase of roughly 800 vehicles per day since the implementation of the Wick Road scheme. This is due to vehicles turning left from Wick Road into Hedger's Grove, then right into Hartlake Road to finally exit onto Kenton Road to avoid the traffic lights at the Wick Road and Morning Lane junction.
Hartlake Road is a narrow road with a children's playground adjacent to it where local children play and socialise. Hedger's Grove, Hartlake Road and other nearby residential streets are used as routes by pedestrians to reach the nearby Wentworth Nursery School and Triangle Pre-school. Therefore, it is vital to reduce the large volume of through traffic using these routes.
What are the proposals?
Please refer this drawing for further details.
We are proposing to close Hedger's Grove at the junction with Wick Road, to create an area with less through traffic and cleaner air.
These proposals aim to improve the way this space looks and feels, making the public realm more pedestrian friendly. We believe that by making the environment safer and more attractive walking would be encouraged. Should the proposals be implemented following consultation, we will be intending to close the junction to through traffic by means of a traffic modal filter, i.e. installing planters with trees and shrubs to facilitate the greening of the environment.
The proposed scheme would include:
providing access for bicycles and emergency vehicles through the  modal filters

reducing levels of pollution

reducing potential road accidents 

making it easier and safer to walk  and cycle 

all residents who need to use Hedger's Grove to access Hartlake Road as a route would still be able to drive to their property, as access will be maintained  to Hedger's Grove via Cassland Road. 
What happens next?
Your views will be taken into account as part of the detailed design process. We will publish the consultation results as well as the decisions made on this page.
Permanent works
If the scheme goes ahead, following consultation, we expect construction works to start in February 2022 with completion in about two weeks. Further information regarding the works will be sent out closer to the time.